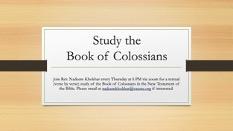 Virtual Bible Study
A verse-by-verse textual study of the Book of Colossians with Rev. Nadeem.
The book of Colossians was written as a doctrinal statement on the deity and all-sufficiency of Jesus Christ. For those who want to strengthen their faith and understanding in Jesus as the divine son of God, the book of Colossians is a great resource. This totally Christ-centered epistle helps strengthen our faith and hope in Christ's power to save us.
Starting from January 21, 2021, the group will meet on Zoom every Thursday from 6-7 PM.
Email Pastor Nadeem at nadeemkhokhar@vaumc.org if you are interested.