Cambodia, Ghana, & Somalia
Through our Conference Covenant Relationship, the church is supporting a missionary, John NDay.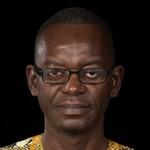 John Nday is a Missionary at the Cambine Mission in South Mozambique. This mission has more than 2,000 students enrolled in several schools. The mission has land used for crops and animal husbandry to feed the students and orphans. He teaches the students can help maintain the agriculture importance of the region.
COVID-19 Food Distribution
In 2020, the COVID-19 lockdown issued in Pakistan caused many to be without work, therefore without money to buy food.  Pastor Nadeem Khokhar informed his friends and church families of the poor conditions many were living in back in his native country.  In partnership with Pleasant Valley UMC and Floris UMC, Crenshaw collected money to purchase food for the community of Yohana Abad and Nishat Colony in Lahore, Pakistan.   This video reveals the conditions that many are currently living in.  The second half of the video reveals many individuals thanking the American churches for the assistance provided, along with prayers of blessings to all who reached out to show God's love during a very difficult time!
New Opportunities
We look forward to participating in these mission opportunities and others as witnesses and servants to those in need in the name of Christ.